Intuitive Reiki Session
What is Reiki?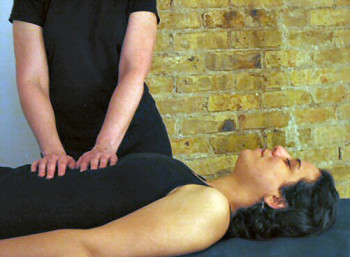 Reiki, pronounced ("ray-key"), is a holistic energetic healing practice involving hands-on touch. In Japanese, "Rei" can be interpreted as spiritual consciousness, and "Ki", also known as chi or prana, is the life force energy which circulates through all living beings. Although there is some question as to Reiki's roots, it was rediscovered in Japan by Dr. Mikao Usui in the mid-1800s.
Reiki aims to balance the body's energy centers (chakras) and the overall flow of energy throughout the body, reinforcing its innate self-healing ability. Reiki beautifully works to promote health and well-being on all levels - physical, mental, emotional and spiritual.
An Intuitive Reiki session
A hands-on Reiki session generally lasts 60 to 90 minutes. Sessions are typically conducted while lying on a massage table.
Each session starts by briefly discussing and setting an intention, which may be as specific or general as desired. This serves to better focus on the area(s) in which healing is most desired.

The energy work itself may be done above or directly on the body. Hands are gently placed on or near areas in special need of this energy flow.
During the session, there may be feelings of deep relaxation and peace; sensory sensations of warmth or cold or tingling; sometimes emotional and/or subtle energy releases throughout the body. Even in the absence of specific sensations, be assured that the Reiki energy is always working.
If requested, following the treatment, Mary will share intuitive insights received during the course of the session.
Benefits
The balancing energy of Reiki can be beneficial for:
Relaxation and stress relief
Anxiety and depression
Pain management
Insomnia
Digestive issues
Side effects from cancer treatments, such as nausea and fatigue
Recovery from surgery or a sports injury
Overall well-being (clears toxins, releases stored emotions, clears energetic blockages)
Reiki is compatible with other forms of healing, including massage therapy. At ITM,
Reiki Relaxation Massage
sessions fully integrate massage with this form of healing energy..
*Reiki is compatible with most medical treatments, but is not intended to replace a physician's care. Check with your health care provider if you are undergoing treatment for a serious medical condition.