The Tennis Ball Can be Your New Best Friend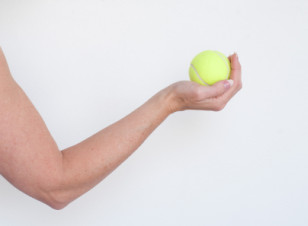 ITM specializes in Precision Neuromuscular Therapy (PNMT) for the relief of soft tissue pain problems. One hallmark of an NMT session is the treatment and release of trigger points – those knots and hyperirritable spots in muscles that give us so much discomfort and grief. After an NMT massage, clients frequently ask what they can do at home on their own in between sessions. One easy, yet effective, means of self-care for minor aches and pains is tennis ball therapy.
Regardless of whether you're in-between massage visits or you simply have an unexpected bout of muscle soreness from increased physical activity, by putting the tennis ball between you and another surface, such as a wall or the floor, you can help relieve those muscle knots and chronic pain points.
Although tennis balls can be used virtually anywhere you can creatively put them, they are easiest use on your back, hips, gluts, IT bands, quads, calves, and soles of the feet. The general idea is to put the tennis ball between you and something else – usually the floor, but it can also be a wall or another body part (e.g., hold the ball in one hand and rub it against the forearm of the other). The idea is to achieve a "release", or a "melting", of the sore, hypersensitive "hot spot" (the trigger point) by putting just enough pressure on it. You know these spots when you hit them!
Here's how:

1) Get a tennis ball (or similar ball)
2) Lie on the floor (or stand against a wall) and position the ball under your most sensitive or tender knot.
3) Put just enough pressure under the spot so that you feel a "good pain", enabling you to relax. "No pain no gain" doesn't apply here – lighten up the pressure if you are wincing or making faces.
4) Lay on the ball until the discomfort is about 75% lower than when you started (like we do in the ITM office). This can be as little as a few seconds to a couple of minutes.
5) Move on to the next "hot spot".
6) Stretching and heating the area (moist heat is recommended) afterword will help your hard work to stick better.
Of course, tennis ball therapy, or any other self-massage technique, is not substitute for medical care. Always consult a medical professional for chronic and acute injuries and pain problems. In addition, although your handy tennis ball is great for home, at work or while on vacation, longer-term relief is obtained by working with a qualified massage therapist. Let
Integrative Therapeutic Massage
help!
Jul 30, 2012
by