Sports Massage Isn't Just for Runners & Race Day: Massage helps keep you active all year long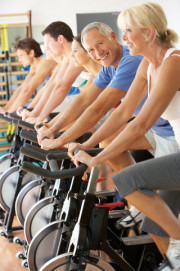 Over the last few months, the itm office was filled with runners preparing for races, the big one, of course, being the Chicago Marathon. Some came in for a general sports massage to help loosen tight muscles and prevent injury; many more came in because they were in pain - everything from hamstring strains to knee issues to plantar fascitis to hip and groin discomfort. Now not everyone is a runner, and to be sure, Chicago's peak running season is over, but regardless, massage therapy can benefit anyone of any age who participates in a regular exercise program. This includes weight training at the gym, taking yoga or pilates classes, or simply walking longer distances several times a week.
If you don't believe me, look at the pros. Today, many professional athletes and sports teams keep massage therapists on the payroll. Massage therapist Laura Stevenson-Flom who worked at the 2012 Olympics explained, "In London, everybody got massage. Everybody including the trainers, including the coaches. When you get up to that level of competition, it is an everyday thing," she said.
The professional athletes I work with typically come in for specific work (e.g., groin pain, hamstring strain, tight hip flexors). The goal is to speed injury recovery, relieve excessive muscle tightness and increase range of motion, all of which lead to better performance. Better performance, for example, was demonstrated by the fact that a number of the competitive runners who came in to itm on a regular basis this season reported Marathon PRs. Massage can help!
Combining your exercise routine with regular massage therapy will enable you to experience positive, tangible benefits as well. Think preventative maintenance. Massage can enhance your workout performance and assist you in making the most of your workouts year round.
Benefits of massage in relation to exercise and sports participation
According to the American Massage Therapy Association (AMTA), research has shown that massage may:
Enhance sports performance
Speed soft tissue recovery and rehabilitation
Prevent future injuries when received regularly
Decrease the intensity of delayed muscle soreness
Help correct body mechanics
Reduce swelling
Increase range of motion
Promote relaxation
Decrease muscle stiffness and fatigue after exercise
Reduce muscle tension
Massage benefits both body and mind
Physiologically, massage affects the cardiovascular system. It dilates the blood vessels, thereby improving circulation. By enhancing blood flow throughout the body, fresh oxygen and nutrients are supplied to soft tissues, and waste products and toxins are removed. Your heart rate is subsequently lowered due the relaxed state you enter during and after the massage.
The muscular system derives even more benefit from massage. With the increase in blood flow, muscle tension and soreness are decreased, which improves recovery time. According to a 2005 study in the
Journal of Sports Medicine and Physical Fitness
, when muscles are relaxed, they experience increased range of motion and flexibility, both of which can result in improved athletic performance.
More recent research coming out of the Buck Institute for Research on Aging at McMaster University in Ontario has found that massage after strenuous exercise lowers inflammation, increases the production of mitochondria, the "energy factories" of the cells, and reduces muscle pain. According to Buck Institute faculty Simon Melov, PhD, "There's general agreement that massage feels good, now we have a scientific basis for the experience." The study's lead author Mark Tarnopolsky, MD, PhD added,
"The potential benefits of massage could be useful to a broad spectrum of individuals including the elderly, those suffering from musculoskeletal injuries and patients with chronic inflammatory disease.
This study provides evidence that manipulative therapies, such as massage, may be justifiable in medical practice."
Athletes derive not only physiological benefits from massage, but psychological benefits as well. Research suggests that massage may not only decrease anxiety, but it may also result in "heightened alertness and tactical acuity."
How often to schedule a massage

While an occasional massage feels great and certainly helps, research suggests - and personal professional experience has found - that the benefits from massage are cumulative and are most evident with regular sessions. In other words, you will experience greater benefit the more massage you receive. A weekly or bi-weekly massage is recommended for those training at a high level. For those whose exercise program is less intense, I recommend a session every three to four weeks for preventative maintenance, and at least several consecutive weekly sessions if an injury crops up.
References
Foxnews.com 2/13/14.
"Train Like an Olympic Athlete With Sports Massage."
Health & Fitness Magazine 2/13.
Frey, Kerrie Ann. "Benefits of Massage For Athletes."
Buck Institute for Research on Aging 1/31/12.
"Need an Excuse to Book a Massage? Research Shows it Reduces Inflammation and Promotes Growth of New Mitochondria Following Strenuous Exercise."
AMTA Position Statement 10/11.
"Massage Therapy for Those Who Exercise."
Journal of Sports Medicine and Physical Fitness 9/05.
Moraska, A. "Sports Massage, A Comprehensive Review."
Nov 12, 2014
by