Chicago Massage Therapy and Reiki Energy Work
Get Back to Pain Free
You have a life to live, and you don't have to live it with pain.
Are you a marathon runner or endurance athlete recovering from an injury? Do you experience chronic jaw, neck or low back pain? Is it increasingly uncomfortable to work at your computer? Are you a professional musician struggling with pain in your arms and hands? Is muscular discomfort, pain or stiffness limiting what you do and how you do it? Then
Integrative Therapeutic Massage
may be appropriate for you.
Depending on your needs and goals, we provide a unique integrative healing experience, often combining the therapeutic elements of
Neuromuscular Massage Therapy
(NMT) with Reiki, a gentle form of energy healing.
Many health-related conditions and injuries respond well to this form of therapeutic massage, including:
Low back pain
Sciatica
Migraines & tension headaches
Neck & shoulder pain
Whiplash
Rotator cuff injuries
Frozen shoulder
Temporomandibular joint (TMJ) dysfunction
Fibromyalgia
Carpal tunnel syndrome
Tendonitis
Sprains & strains
Arthritis
Plantar fascitis
Shin splints
Iliotibial (IT) band syndrome
Knee pain
Learn more about sports massage therapy for runners and other athletes.
Whether helping Chicago area athletes maintain their peak performance with sports massage or aiding clients in the rehabilitation of an injury or chronic pain condition, we aim to provide a caring place to heal, rejuvenate, and understand the underlying cause of your pain..
For those seeking stress relief and energy balancing, we also offer individual
Intuitive Reiki
sessions, in addition to our signature
Reiki Relaxation Massage
.
Our goal is to help you Love the Way You Feel ... in body, mind and spirit.
Schedule An Appointment Here Or Call 773-230-4742
If requesting a same day appointment under a 3-hour window, please call for availability.
Give the Perfect Gift
Buy gift certificates for your loved ones. Available in a range of designs and denominations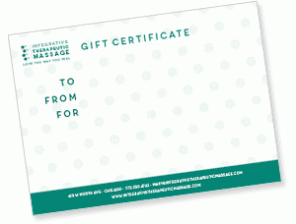 buy now